---
Jared Lundgren Team
Broker/Owner
---
Jared Lundgren Team
Broker/Owner
Phone:
Phone:

M:

612-636-2151

612-636-2151

mobile

Phone:

O:

218-228-3905

218-228-3905

office
Office:
Office:

RE/MAX Northland

20 2nd St. NE
Aitkin, MN 56431
"It's not just a job, it's a passion! I have been a part of the real estate world since the early 2000's and have a great deal of knowledge of the ups and downs of the market. Being an entrepreneur most of my life, I have negotiated many transactions and truly enjoy the negotiation process of representing the Seller.  I also take pride in being able to find the best deal for my Buyer clients when it comes time to purchase their first back woods cabin or family dream home."                - Jared
BROKER/OWNER
Jared Lundgren


Jared Lundgren spent 10 years in the financing industry, which led him to the lasik eyecare business. In 1999, Jared founded three Lasik eyecare clinics, most notably Eau Claire LASIK and Minnesota Eye Institute, St. Cloud. During his eye care business career, Jared acted as a consultant in a public speaking role, giving presentations on how to best market and manage the business.

Jared also owns and manages a variety of investment properties in Florida and Minnesota, which lead him into his current career in real estate as the Broker/Owner of RE/MAX Northland in Aitkin, MN. Jared's vast knowledge of the real estate industry and business background was the perfect platform to power the success of RE/MAX Northland.

Jared and his family of 5 moved up from the Zimmerman area several years ago where they wanted to raise their 2 youngest daughters on Farm Island Lake where they first purchased a vacation home back in 1997.  Living the "lake life" they feel like they are on vacation all year round! Jared and his wife, Beth, may be best know in the Aitkin community for their family retail business named Giada's Boutique.  It was a thriving women's clothing and accessory store in downtown Aitkin from 2008-2018. They chose to close the store when RE/MAX Northland grew to a point where they chose to focus on real estate full-time. 

Jared has put together an outstanding, full-service, real estate team. Each member of RE/MAX Northland brings a different set of strengths to share with the team. With TEAM as their focus, everyone takes great pride in overall customer satisfaction - paying attention to every detail along the way and providing the best possible "small town" service. 
The TEAM is growing and always looking for more top-notch people to join in the fun. If you are interested, contact RE/MAX Northland today!  Office Manager: 218-228-3905

OFFICE MANAGER
Rhonda Conner
Rhonda, who joined Team Jared in the summer of 2017, is a customer service professional with over 15 years of office management and business operations experience. Her aim is to provide the highest level of friendly service to all clients while providing organization and operational ease to the daily demands and business needs here at RE/MAX Northland.  Rhonda is your "go to girl" for any questions you may have...if she doesn't have the answer, she will know who does!
OFFICE GREETER
Remee Dogee the Frenchie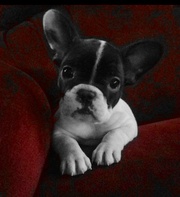 REALTOR®
Kim Baker 
In 2017, Kim finally made the move into real estate when she joined RE/MAX Northland. We believe Kim's experience in corporate Marketing, combined with all the big name benefits of RE/MAX, ensures you a winning team for bringing your real estate dreams to life! Kim's biggest strength is her dedication to meeting each individual's specific needs. With Kim as your agent, you will see she is focused on discovering and understanding your family's unique needs and wants so she can do the best job possible for your success.
REALTOR®
Susan Ackerman 
 

Through Susan's years of experience she has developed the ability to understand, visualize and identify what a Buyer is searching for.  For Sellers, Susan brings years of experience in Interior Design and offers complimentary Professional Staging Services as well as professional quality photographs of your property.  She knows that when clients are ready to list their property, they have but one chance to make a first impression - she will make certain your property shows to its best advantage by looking its very best the moment it hits the market!
REALTOR®
Jamie Wells 
 

As your real estate agent, Jamie Wells will be an advocate for YOU. Whether you are buying or  selling, Jamie will always work to promote your best interests. If you are selling, she will work with you to get you to set the best price in the current market while selling your home in the least amount of time through the use of state-of-the-art technology, team collaboration, and RE/MAX Northland's superior marketing approach. If you are buying, she will work hard to provide you with the best information and timely market data to inform and assist you.  With Jamie and the RE/MAX Northland team by your side, you will be a well-equipped buyer with a strong and experienced negotiating team behind you!
REALTOR®
Tammy Kottke 
 

As an agent who's an expert in the Twin Cities Metro area, Tammy brings a wealth of knowledge and expertise about buying and selling real estate in this fast paced market. It's not the same everywhere, so you need someone you can trust for up-to-date information. Tammy is an up beat, go-getter who is eager to serve you! 
MORE to share...
In addition to the traditional RE/MAX Advantage, we are currently offering commission rates as low as
4.95% as well as professional photography, drone videography & virtual home tours! 
1. The RE/MAX Advantage - We are proud to be a part of the RE/MAX team. According to the 2017 REAL Trends 500 survey, RE/MAX is the #1 name in real estate. RE/MAX associates included in the survey on average outsold competing agents with a ratio of more than two to one.
2. The Local Advantage - Take advantage of a broad spectrum of technologies and tools to support the sale of your home from start to close.  Our team has years of experience living and serving in these communities and have the connections necessary to market and sell your home. In addition, we will complete a thorough market analysis to ensure that you get top dollar for your property.
3. Internet Advertising and Email/Social Media Campaigns - Most home buyers start their search on the internet, top placement on search engines is essential. You'll gain access to placement on MLS, Zillow, Trulia, Realtor.com, Google, Bing and other websites. This will maximize your exposure and bring a large number of potential buyers to view information about your home. It's important to "work the network." We have thousands of contacts that we have worked with over the years. We can work together to identify the right people to target your home and get in touch with them by email, Facebook, and other social media networks drive excitement and interest.  Here are only a few examples: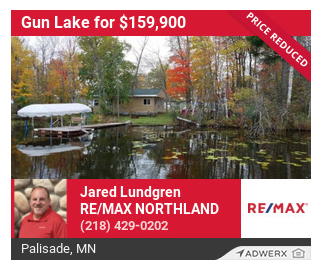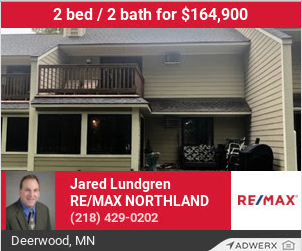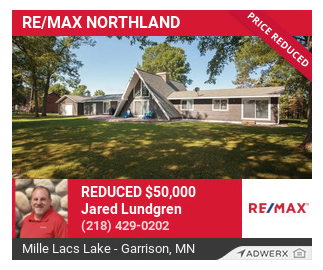 4. Weekly Reporting  
5. Negotiating Deals with a Personal Touch - Of course, technology alone won't sell your home. Face-to-face interaction provides the advantage to sell your home - and you won't have to worry about a thing. Our team is lead by Broker/owner Jared Lundgren who has 30 years of business and negotiating experience.  Every little detail will be handled with care and constant communication - we will ensure the marketing and sale of your home go smoothly.
Learn more about our Broker and see RE/MAX Northland properties listed TODAY!
We appreciate the opportunity to earn your business and look forward to serving you! 
To find out more about selling your home, click here to contact us.
  
We specialize in lake & log home properties in Aitkin, McGregor, Brainerd and their surrounding lake communities.  
Let us give you a tour of the many beautiful properties, cabins and lake homes that Minnesota has to offer!  

We take great pride in offering Professional Photography and/or videography options with the opportunity to list our home: 
Check out the amazing AERIAL FOOTAGE / VIRTUAL TOUR for one of our previously FEATURED Listings!   
Recommendations
"Jared and his team help us purchase our home last year. He worked very hard with my husband to find our home while I was working in another state. Our home is perfect and Jared made sure everything was all set with inspections, paperwork, and much more! We are very happy here in the Northland of MN. "
  -Sandra D, Client
"We are very satisfied with the timely fashion in which Kim helped us to sell our home. Kim is a great listener who is concerned about all of our needs, wants, and desires. She worked hard to be personal with us in a professional manner. She helped us to understand and navigate throughout the entire process. She was attentive and quick to respond to our questions searching for the best answers. She also knows how to handle multiple offers to get you the best deal. We highly recommend her services!"
  -Thorsoncrew - 2019, Client
"Kim was very helpful in every aspect of helping us sell our lake place. She is very friendly and was willing to listen to our ideas. Kim would always be on time when showing us properties. I would recommend her to any future clients."
  -Brian - 2019, Client
"As personal representative of my late mother's estate, I had to sell 3 large parcels of vacant land (including lake shore property) in Aitkin County MN. The transactions also involved a 'lot line adjustment' with the county planning and zoning office. Because I live in Illinois, we had to work together remotely for the entire process. Jared and his team (especially Rhonda) were exceptional in knowing and working with the county officials. They were also great in coordination with the surveyors. They know the market well, and after providing a market analysis, we selected a price point that generated significant interest in the first week on the market, attracting multiple offers which allowed us to negotiate a very competitive deal for the estate. I would recommend Jared and his team to anyone who is interested in buying or selling property in the greater Aitkin area"
  -Grant Benjamin, Client
"We have been searching for a lake home for 2 years. It was not until I hooked up with this company that I found our dream lake property. Jared knew what we wanted after we spoke. It was the second house we looked at with him and we were sold. With him and his outstanding office manger Rhonda you cannot go wrong using this company."
  -Ronnie Law , Client
"We couldn't be more pleased with the overall customer service that Jared and his entire team provided from the time they listed our home, until it was sold. They were always accommodating, extremely friendly, very proactive with our listing, and were always available to offer support and wisdom. We felt that their service was second to none, while at the same time my wife and I appreciated their honesty. While trying to sell a house can be a daunting task, Jared, Rhonda and the entire REMAX Northland team exceeded our expectations on every front. Not to mention, that they also sold my mother's house and she closed within 3 days of us closing on our home. Again, whether your buying or selling your home, I couldn't more highly recommend this company or team of dedicated agents, who ultimately became friends."
  -Jason, Client
"Excellent open communication, did not feel pressured during sale of our property due to "lender" issues that delayed closing, Kim is calm, professional and consistent to get the deal done ASAP!!"
  -MMDick, Client
"Excellent open communication, did not feel pressured during sale of our property due to "lender" issues that delayed closing, she is calm, professional and consistent to get the deal done ASAP!!"
  -MMDick, Client
"Bought a cabin. Process went pretty smoothly and quick except closing day! But Kim stuck with us the entire time and helped us take care of the issues. She has even followed up with us after the transaction to make sure everything was going okay for us. in mcgrath, mn"
  -Jessica Westphal, Client
""Working with Kim Baker went smooth and she was very understanding with details. Communication was very good and she kept in contact throughout our time with her. I would recommend Kim Baker with helping buying a new home anytime." 37253 State Highway 18, Aitkin, MN 56431"
  -sharon reich2, Client
"Kim provided us with numerous listing to find our dream lake cabin. Kim was familiar and knowledgeable with the area and was always timely when questions were presented. She never pressured us and was very patient during the buying process. I would recommend Kim to family and friends. Thanks again Kim!"
  -schwarz55, Client
"A very professional experience Dealing with Jared and Rhonda - it just doesn't get any better than the experience I had when I needed questions and curiosities answered thru Rhonda. Excellent service selling my lake shore cabin. Thank you!"
  -Todd & Patricia (Sold our cabin 2018), Client
""I wasn't really looking for a realtor yet because we were just starting to think about buying a cabin but Kim contacted me and was not pushy at all. She would check in with me every once in awhile and when I found a place on Zillow that I wanted to look at I called her and she showed it to me. We recently closed on the property and are very happy with the whole process and Kims service." 4/17/2018"
  -rlowenberg6, Client
"Great buying experience! Realtor Jared Lundgren was friendly, professional and knowledgable. He served as a dual agent on our transaction and he fairly represented both parties. Jared receives the highest recommendation I can offer. If you are fortunate enough to work with him on the next purchase or sale of your home/property, you will be very satisfied. Outstanding service by the entire team!"
  -Bobbie J. Danielson, Client
"Found the house that wasn't on the market and worked with me on a complicated buy. He is the guy to use in this area as the level of professionalism in "2nd home" areas can be pretty low. He brings a ton of big city experience to a market that is full of agencies that are far from his level of service."
  -pjaviation, Client
"Jared was very knowledgeable and prompt and friendly. He made buying a home easy. He found the home we were looking at our price. I would highly recommend Jared and Remax Northland to anyone looking to buy or sell any real estate."
  -sfisfree, Client
"We are very pleased with the results of our sale. Jared knows the real estate business well and the area. He and his co-workers were very expedient in giving us the results of our showings. We appreciate their efforts."
  -kjranch1, Client
"Jared assisted in the sale and the purchase of our homes. He did an excellent job and refused to give up when parts of the deal became challenging. We will be using him again and highly recommend Jared to anyone looking to buy or sell property!"
  -garrettlee724, Client
"We highly recommend Jared Lundgren. He was so helpful in our search for a lake home. He was so patient in our search and his knowledge made our experience so enjoyable. We are so thankful for his help in purchasing our new lake home."
  -triciahjort1, Client
"I can highly recommend Jared for a realtor without any hesitation. He was very patient with us and gave us some great advice which was in our best interest, but maybe not his. He was available in the evenings and was always cheerful and willing to help us. I feel fortunate that we worked with him. We did not buy a Lake home, but if we had and I would still have given him a five star review."
  -drpaul4, Client
"Mary and I just want to thank you again for all of the help finding the right cabin. I know we were very picky trying to find the right one. Your knowledge of the area really helped us lock in about 3-4 lakes. Also, thanks for the gift of knifes, we plan on leaving them at the cabin and will think of you each time we use them. Like Mary said we would like to take you and your wife out next spring. Have a safe and Happy Thanksgiving. Thanks again! Oct 2017"
  - Paul & Mary, Client
---